Top 10 Art Schools in the World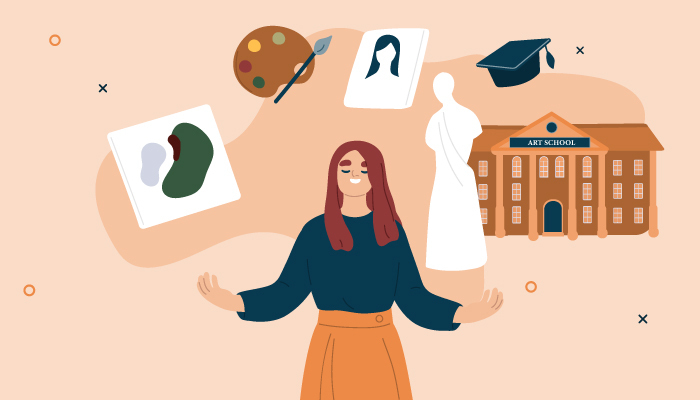 This article contains affiliate links. If you use these links to buy something, we may earn a commission.
---
Whether you are a painter, photographer, filmmaker or designer, there are many art schools out there that will allow you to hone your talents and build a successful art career.
That said, deciding which school to attend can be an overwhelming process.
Lucky for you, we have. has compiled a guide to the best art schools in the world based on QS's Latest World Rankings,
10. Pratt Institute
The Pratt Institute, founded in 1887, is one of the leading art and fashion design schools in the US and the world. Its main campus is located in Brooklyn, but it has satellite campuses in Manhattan and Utica.
The school offers a range of programs including fine arts, interior design, architecture and industrial design. However, it is best known for its art school, which is often ranked in the top ten in the country. It has an acceptance rate of around 56%.
Teaching is in-person and requires full-time participation. Practical experience is provided in every aspect of the fine arts, including graphics.
Notable alumni include Harvey Feinstein, Joseph Barbera, Martin Landau, Rob Zombie, and Robert Redford.
9. Glasgow School of Art
The Glasgow School of Art was founded in 1845 and is one of the oldest and highest ranked art schools in Europe. It offers undergraduate and graduate programs in fine arts.
Due to its exceptional arts curriculum, it has an acceptance rate of only 20%. Learning is both practical training and field experience. Studio based learning is done to develop creative thinking in the students.
Notable painters from the Glasgow School of the Arts include Ann Dunlop Alexander, Janet Macdonald Aitken and Lena Alexander.
8. School of the Art Institute of Chicago (SAIC)
The School of the Art Institute of Chicago (SAIC) opened its doors nearly 150 years ago and offers one of the highest-rated programs in North America.
Located in downtown Chicago, the school offers an interdisciplinary approach to fine arts and design. Its state-of-the-art facilities, solid interdisciplinary curriculum, and renowned faculty all focus on offering practical training, and real-world performing arts for students, allowing them to develop hands-on experience by the time they graduate.
With an acceptance rate of around 57%, the college has been a leader in educating and preparing future generations of designers, artists and scholars.
Notable alumni include Richard Hunt, Michelle Grabner, Elizabeth Murray, Nick Cave, and Leroy Nieman.
7. Aalto University
Located in Espoo, Finland, Aalto University was established in 2010 after the merger of three top Finnish universities.
Currently, it is rated as one of the top art and design schools in Europe. Students are trained in product design, art system enhancement and creative development. With only 200 positions available, admission is extremely competitive, and only one in 11 applicants is accepted. But once you're in, students thrive in the open environment and they have wide opportunities to visit art galleries and museums in Scandinavian countries.
Notable alumni include architect Alvar Aalto and designer Tapio Virkala.
6. Polytechnic of Milan
Simply put, the Politecnico di Milano is one of the best art schools in the world.
Founded in 1863, it is the largest university in Italy, providing training in architecture, design and engineering. The primary objective of the arts program is to inspire creativity in the students.
Teaching is conducted through multi-format media that harnesses the power of videos, lectures, webinars and direct visits to museums. Meanwhile, the acceptance rate is around 60%.
Notable alumni of the Politecnico di Milano include the architects Gay Aulenti, Enrico Castiglioni, Elio, Giovanni Pellegrini and Marco Zanuso.
5. Massachusetts Institute of Technology (MIT)
Wait a minute. Doesn't the Massachusetts Institute of Technology (MIT) only churn out computer engineers, physicists, and robotic designers? Absolutely not – it is a huge college with many departments including art and design.
The Department of Arts offers training in film, photography, public art, and robotic design. There are ample opportunities and degree types for students to create art in multiple media formats. MIT School of Art is one of the most competitive programs in the world, with an acceptance rate of only 7%. A degree in arts from MIT is guaranteed to open up opportunities in almost any art field.
Notable alumni include Daniel Chester, Cass Gilbert, Gordon Bernshaft, Im Pei and many others.
4. Rhode Island School of Design (RISD)
The Rhode Island School of Design (RISD) was founded in 1877. Over the years, it has established itself as one of the leading art and design schools in North America. Many international students are also enrolled in its programs.
Located in Providence, Rhode Island, RISD offers creative education in fine arts and design. The practical experience is provided by frequent travel to two major cultural cities: New York and Boston. Admission is difficult because the college only has a 25% acceptance rate, and candidates who have top ACT grades should be considered.
Notable alumni of RISD include Do Ho Suh, Ronnie Horn, Shahzia Sikander, Kara Walker and Todd Hideo.
3. Parsons School of Design
The Parsons School of Design at The New School was founded in 1896 and is considered one of the best art schools in America.
This private college is located just outside of Lower Manhattan in New York City and offers a unique approach to real-world interdisciplinary learning for both your undergraduate and graduate. This is a competitive school to enter with an acceptance rate of only 35%.
Alumni include some of the top leaders in design, art and fashion such as Alexander Wang, Kay Unger, Jason Wu, Sophie Buhai, Donna Karan and Anna Sui.
2. Art University London
The University of the Arts London is a relatively new art school established in 1986. But in this short span, it has managed to rank as the second best art and design school in the world.
With an acceptance rate of only 20%, it has six campuses, all within central London. In addition to offering personalized training, there is a solid exposure to the modern and robotic arts with an emphasis on design.
Notable graduates include Richard Hamilton, Alexander McQueen, Stella McCartney, Antony Gormley and Phoebe Philo.
1. Royal College of Art
The Royal College of Art is considered one of the best art and design schools in the world.
Established in 1837, the school has exceptional standards and accepts only the most talented students in its postgraduate training programme. It has an acceptance rate of around 25%, with more than half of the students being international.
With three campuses, all located within the City of London, individual training and supervision is provided to each student with significant exposure to the fields of art and design.
Many famous artists have graduated from this school, including Chris Dresser, Sir George Clausen, Kate Greenaway, Sir Luke Faides and Edwin Lutyens. Maybe one day your name will be on that list too!
final thoughts
In this day and age, art has become vital to our existence, serving as a means of expression.
If you are an aspiring artist looking to hone your craft, you have tons of options available at your fingertips. By enrolling in one of these leading art schools, you will be guaranteed a better education and excellent opportunities that will help you take your first steps in the world of art.
So, it's time to grab your portfolio, choose a university, choose an artistic path, and start building!
Join the discussion! Which of these art schools is your dream school? Let us know in the comments section below!