How to get a FASTag (5 Best Ways to Buy a FASTag)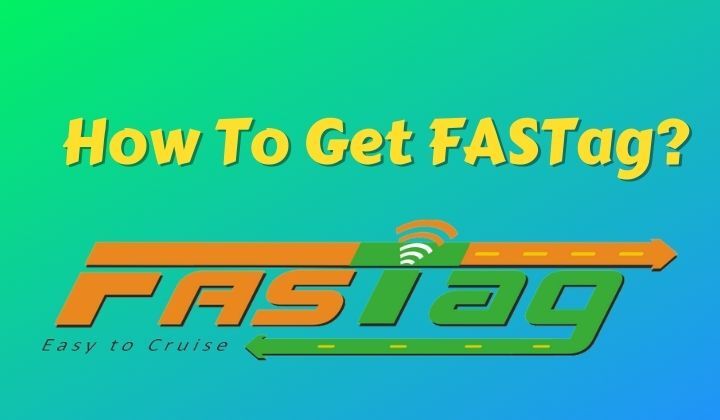 FASTag came into existence in 2014, and is an initiative of the National Highways Authority of India (NHAI). It was launched to digitize toll payment and save time for all.
It is a tag that works on RFID technology which stands for Radio Frequency Identification. It is mounted on the windscreen of the vehicle from the inside and enables the driver to cross the toll stop without actually paying the toll.
If you are a vehicle owner or soon to buy a new car, then you must find the right way to get FASTag at cheap rates.
Currently, FASTag has been made mandatory, starting from December 2019. This is applicable across India and vehicle owners need to recharge it before buying and using it.
From January 1, 2021, FASTag has become a must-have for all types of vehicles, so, if you are still not aware of it, here is everything you need to know about it.
Before knowing all the different ways to buy a FASTag, let us understand the various benefits of switching to a FASTag.
Uses and benefits of FASTag
FASTag can save a lot of time in waiting at toll plazas and paying toll charges. It can be renewed and recharge can be done online without any hassle.
This greatly helps the youth to pay all the toll taxes in advance and in turn save their time. Some of the obvious benefits of using FASTag are-
1. Ease of paying toll-
With FASTag, there is no need to keep cash ready with you. You don't need any change or paper money on your part. You don't even need a debit or credit card to take a cash deduction.
2. Zero fuel wastage-
Most of the toll tax payers used to wait for hours just to pay a small amount. This, in turn, increases fuel wastage. With FASTag, there is no stopping, therefore, you can save fuel and need not waste it.
3. Long Validity-
Once you buy a FASTag, it is valid for five years. This is a great time to use it and after five years, you can renew it from a variety of sources.
4. No problem while recharging-
FASTag can be easily recharged online through UPI, internet banking, debit or credit cards. You don't need to go physically and make any payment. As long as you have internet and mobile phone, you can recharge FASTag with a single click.
5. SMS Alerts-
FASTag users get timely SMS notifications informing them about their FASTag validity, recharge and recharge renewal date.
6. Cashback Offer-
By using FASTag, you also get attractive cashback offers. These offers can sometimes pay off the price you paid and save you a lot of money.
How to get FASTag in 5 different ways
FASTag is available at Rs. 200. Its refundable protection depends on the type of your vehicle. There are many ways to get a FASTag. Some of these methods are-
Physically visiting the FASTag issuing agency near a toll plaza. There, you can get a new account and get your first FASTag. After that, you can easily renew online recharge for five years. Before going to the actual location, you can call the helpline and get more information from the toll plaza.
National Highways Authority of India has authorized various FASTag service providers like ICICI, HDFC. State Bank Of India, Bank of Baroda, Axis Bank, City Union Bank, etc.
You can also buy FASTag online on PayTM and Amazon.
The offices of the Road Transport Authority also issue FASTag.
You can also download FASTag app and buy stickers FASTag online.
What kind of documents do you need to get a FASTag?
Since getting a FASTag is an official act, you need to prepare some official documents before applying for it.
You are required to have documents like registration certificate, passport size photograph, KYC documents like PAN card, Aadhar card, voter ID, driving license or any other relevant document.
Where should you fix the FASTag?
FASTag works on RFID technology and it should be clearly visible to toll workers and sensors as well. Therefore, it is advisable to apply it on the windscreen from the inside.
Do not put too many FASTag on your vehicle as it will only interfere with the technology.
How should you recharge your FASTag?
FASTag works on prepaid recharge and recharge will be deducted from time to time at each toll station. The issuing agency will deduct a specific amount from the customer's account at different times.
Whenever you pass through the toll gate, you will be notified through a confirmation message. To be sure of the transaction, it is best to check these messages thoroughly to avoid any discrepancy.
Color code and cost of different types of tags
Different vehicles have been kept in different categories for FASTag. Each of these vehicles has been assigned a different color code.
The minimum deductible amount for the card is Rs 100. 200 is allotted as refundable deposit. The balance shows up as Card Balance.
For Car/Jeep/Van, the color code is purple and the minimum amount is Rs.500.
The Tata Ace and Mini LCVs also have the Violet code and are priced at Rs.500.
Orange code is assigned to LCV 2 axle and it costs Rs.600.
The 3 axle buses and trucks have been given yellow tags and cost around Rs 700.
The 2 axle buses and trucks are given green color code and are priced at Rs. 600.
For 4 axle trucks and above, the color code is pink and the cost is Rs.800.
For larger size vehicles, the color code is light blue and the cost is Rs 900.
The vehicles are classified as earthmovers, the color code is gray and the cost is Rs 800.
Conclusion
FASTags have been made mandatory recently and they are really helpful for all. They have saved time for busy people and given them the freedom to pay digitally.
If you are planning to buy a four wheeler soon, it is best for you to buy a FASTag along with the vehicle. This will keep you out of trouble and help you save more fuel, time and effort.