25 Best Careers in Hospitality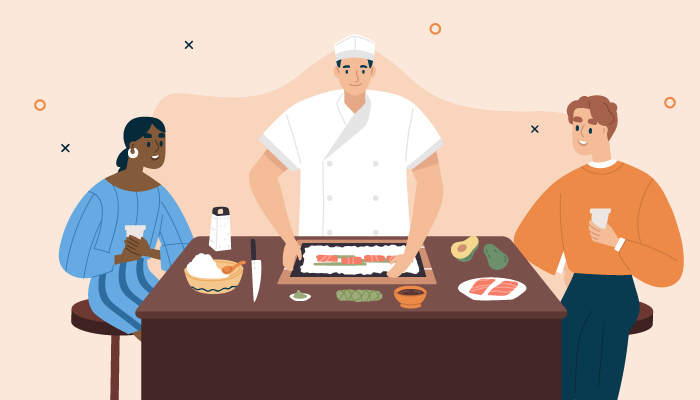 This article contains affiliate links. If you use these links to buy something, we may earn a commission.
---
If you love to put a smile on a stranger's face and have the patience to deal with easygoing customers, then you should really consider choosing a career in hospitality. From hotel work to tours and nightlife to catering, the options are truly endless.
To find your true calling in this exciting and upbeat industry, however, you need to identify what your key skills are and how you can fit into this vibrant field. And to help you figure out which job suits you best, we've compiled a list of the 25 Best Jobs in Hospitality for a little inspiration.
1. Sales and Marketing Manager
average salary: $59,237 (£43,615) per year
Each international hotel chain will hire a sales and marketing manager to bring in new customers and partnerships and showcase their hotel offerings. From delivering presentations to hosting marketing events and trips, day-to-day duties can vary. To be successful in this position, you'll need a proven track record in sales and a degree in business or marketing.
2. Hotel Receptionist
average salary: $29,748 (£21,903) per year
A hotel receptionist may seem boring at first, but you can actually help shape your guests' stay. You will be one of their first interactions during their stay, and you can really impress their impression of the hotel. If you do well, you can move up to a managerial position as well.
3. Cruise Ship Entertainer
average salary: $43,550 (£32,064) per year
If you're a talented singer or performer but haven't caught your big break yet, you might consider becoming a cruise ship entertainer and earning big money while you're at it! You will spend your day or night performing for audiences on the ship and enjoy the amenities of the cruise liner during your time there!
4. Head Chef
average salary: $48,937 (£36,032) per year
Head chefs can be found in restaurants, hotels, casinos and cruise ships. They are responsible for the menu and quality of the food served, and they oversee the entire operation of the kitchen. From ordering to preparation and delivery, they are the eyes and ears of the kitchen, making sure it runs smoothly!
5. Tour Guide
average salary: $38,000 (£27,980) per year
Becoming a tour guide is an interesting and rewarding career – you get to meet people from all over the world and learn about other cultures. And you also get a chance to showcase the history and heritage of your country. To be successful, you must have great people skills and physical stamina because you will be on your feet for most of the day.
6. Fitness Instructor
average salary: $45,000 (£33,130) per year
As a fitness instructor, you can work out in a variety of establishments ranging from gyms and independent studios to your clients' homes. However, a popular option for many people is in a hotel – you get vacationers dedicated to exercising, and you also get to enjoy hotel amenities.
7. Concierge
average salary: $40,602 (£29,893) per year
Similar to a tour guide, a concierge is the person in charge of attractions, restaurant recommendations, and entertainment within a hotel. They have an in-depth knowledge of what's hot and what's not, as well as great connections, which is useful when tickets are sold elsewhere.
8. Cosmetologist
average salary: $31,638 (£23,216) per year
Trained and experienced beauty therapists can be found at a hotel spa. In this environment, these skilled professionals can often earn higher salaries than high-street salons.
9. Sommelier
average salary: $51,060 (£37,594) per year
If you're a lover of wine (and let's face it: who isn't?!), a job as a sommelier may be ideal for you. To be successful, you'll need an in-depth knowledge of wine, wine pairing, and the fermentation process to advise and wow your diners.
10. Casino Host
average salary: $45,218 (£33,296) per year
A casino host is responsible for monitoring and organizing casino dealers during the game. They will also ensure that customers are comfortable and having a good time and will take steps to avoid any dangerous situations.
11. Travel Agent
average salary: $39,278 (£28,926) per year
Arranging a special trip for your clients can be extremely satisfying especially if it is a once in a lifetime experience. And the plus side of being a travel agent is that you get to travel a lot so that you can get a feel for what you are selling to your customers.
12. Event Manager
average salary: $54,841 (£40,388) per year
Each large hotel chain will have an in-house event manager who plans and oversees the organization's events, including charity dinners, meetings, and conferences. They will usually be given a budget to stick to and will need to work their magic around strict instructions!
13. Flight Attendant
average salary: $47,336 (£34,730) per year
The job of a flight attendant may sound glamorous, but it is not easy! From meeting strict requirements to handling sudden incidents in the air, an air steward or air hostess needs the ability to think and think on their feet!
14. Opposite House Manager
average salary: $43,769 (£32,232) per year
In the hospitality industry, a front of house manager usually refers to a manager overseeing the daily operations of catering, including hotel restaurants and cafes. They ensure that the customers are seated and comfortable and that they experience the best quality service.
15. Wedding Planner
average salary: $41,658 (£30,678) per year
Many hotel venues employ their own wedding planners to ensure that a client's day is as magical as possible. If you're creative and you love to have a great party, getting a regular gig with a hotel could be the ideal situation.
16. Bartender
average salary: $38,511 (£15,730) per year
Are you a qualified bartender and skilled in mixing cocktails? If so, you could work in a luxurious hotel's luxurious bar, making sure all of your guests are having a good time. If the bar is open throughout the day or in the late evening, you will usually work in shifts.
17. Director of Housekeeping
average salary: $58,629 (£43,174) per year
As the title suggests, a director of housekeeping ensures that cleanliness standards and attention to detail are maintained across their teams. They are also responsible for managing the budget of the department and resolving any staffing issues.
18. Resident DJ
average salary: $39,732 (£29,260) per year
If you want to attract a crowd and enjoy watching people have a great time, you'll be able to become a resident DJ at a club, bar or hotel. You will get a chance to share your passion for good music and enjoy it even when you are at it.
19. Restaurant Manager
average salary: $47,931 (£35,297) per year
The job of a restaurant manager is far from boring, from hiring and training employees to greeting customers and serving tables, a restaurant manager's hands get stuck in a lot of pies!
20. Hotel Manager
average salary: $50,077 (£36,877) per year
Hotel managers work to keep their customers satisfied and to ensure that the entire operation of the hotel is running smoothly. Similar to a restaurant manager, they check in and check out guests, monitor room standards, welcome diners, and hire and train new team members.
21. Parking lot attendant
average salary: $29,216 (£21,517) per year
One of the more common hospitality-related jobs involves automobiles. A parking attendant will either ticket a guest or park the visitor's vehicle at a location on the lot. While this may seem like an easy task on the surface, it can be daunting because it is your responsibility to park someone's vehicle, and it can be especially upsetting if it is a luxury car.
22. Maintenance worker
average salary: $40,065 (£29,508) per year
Maintenance can be one of the best hospitality jobs in the industry. As a maintenance worker, it is your responsibility to repair items on the property and ensure that everything is operating properly. Of course, you cannot be disruptive and must ensure that the stay of the guests is not impacted. Ultimately, the convenience of a well-oiled machine is your goal.
23. Baggage Porter
average salary: $35,493 (£26,145) per year
Also known as bellhops, a baggage porter is a uniformed service attendant who works in front of a hotel. The primary function of the job is to carry luggage to the guest room when they arrive and back to the lobby when they leave. This is a simple yet important condition for any hotel or accommodation site.
24. Buses
average salary: $18,000 (£13,260) per year
In fact, a busser is not the most lucrative job related to hospitality. However, having someone who cleans the tables and makes sure that guests are eating their meals and drinking their beverages on a clean surface, especially in today's day and age, where cleanliness is more important than ever before. is more important!
25. Theme Park Manager
average salary: $48,750 (£35,759) per year
While a theme park manager may occasionally ride a roller coaster for professional purposes, the main purpose of the job is to ensure that guests have a satisfying experience. This requires performing some of the day-to-day behind-the-scenes tasks, such as managing employees, maintaining and developing strategies, settling employee contracts, and ensuring that all parts of the amusement park operate correctly. working from.
final thoughts
If you have great customer service skills, you can cross off any one of the roles on this list! You just need to make sure that you enjoy the hospitality work you choose. Working with people in a face-to-face role can be challenging, but if you're passionate about improving people's experiences, this is a great career path for you.
Tell us! Which job attracts you the most? Tell us your thoughts in the comment section below!
This article is an updated version of an earlier article originally published on November 01, 2018 and includes contributions by Andrew Moran.