10 ways to earn money online without paying anything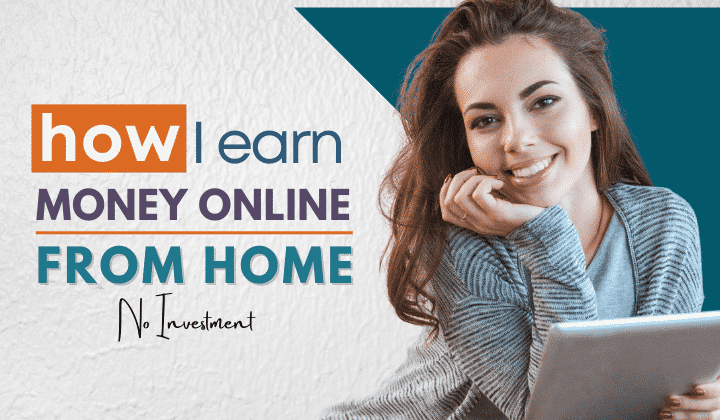 We all want to earn money. We want to earn money either as our main source of income for living or as an additional, extra income. Maybe you are unaware that there are 10 different ways to make money online without paying anything.
You must be thinking, how is this possible? So continue reading. Because in this article, I will discuss how to make money from home without any investment, in 10 different ways.
All these 10 best ways are legit, time-tested and proven to make money online. However, some of these online methods may require some special skills. You can also work part-time or full-time in most of these ways.
1. Paid Online Surveys
Paid online surveys are the best way to earn some money online without paying anything. In fact, there are many great market research companies in the world that also operate in India.
You can join any of these such as Swagbucks, Toluna.com, InboxDollars, and others, and earn instant money online absolutely free.
Once you have successfully registered, you will receive email notifications about any new surveys from these market research companies. All you have to do is complete these surveys and earn points. You can redeem these points for cash or free shopping vouchers from top stores like Amazon among others.
Most of these market research companies also have apps that you can download to your smartphone and complete online surveys on the go. This is a fun way to earn some money on the side.
Completing online surveys will not make you rich. However, they may give you some money to spend or save.
2. Content Writing
If you have excellent writing skills that can convince anyone, you can work from home as a freelance content writer. You don't need to pay anything to earn money this way.
Instead, you'll only need great skills to write content that people find interesting, engaging, and relevant. And of course, a nose for research on the topics you'll be writing about.
It is a myth that one can become a content writer only in English. In fact, nowadays there is a huge demand for content in various Indian regional languages ​​as well. This means you have ample opportunities to earn money online without much competition in the field of writing content in local language.
Generally, content writers choose a niche in which they can create articles. This place can be anything from your education, profession, or even passion like movies, music, or just about anything.
Content writers provide articles to website owners, content marketers and bloggers. And they pay very well for your services.
3. Micro Tasking
Microtasking means completing small online tasks that do not require much skill. For example, it could be something like providing good captions to images, correcting short sentences for grammatical and spelling errors, detecting duplicate content, or editing something small.
Amazon has an amazing online micro-tasking service known as Amazon Mechanical Turk. You can register on Amazon mTurk and do many more such micro-tasking jobs.
Amazon provides this service to its retailers for free. This is because there are some tasks that require human intelligence and cannot be automated.
Then there are other websites such as Task Rabbit.com Where you can find lots of micro-tasking jobs and earn money online. This is the easiest way to earn money online without any investment.
4. Data Entry Operator
Data Entry Operator is the most common online job in India that you can find without paying anything and earn some money. In fact, you really shouldn't be paying anything for such work.
This is because there are many scams in the market in this area. Scammers offer data entry jobs and ask you to buy software to fix impossible targets in order to avoid paying.
The job in data entry is very easy. Your job is to simply take raw data from paper forms, audio or other sources and fill in the required details on the templates provided by the buyer of your services. You will have a goal of how many templates you need to complete per day.
In India, you can easily find a data entry operator job through newspapers and various job boards such as Indeed.com, TimesJobs, Shine and Glassdoor.com.
5. Set Up Online Marketplace
If you are able to create something for sale, set up an online marketplace. Nowadays such marketplaces are very popular among people looking for handmade goods. You
You can sell anything such as crochet items, preserved food such as jams, pickles and sauces, spice powders or cookies, and costume jewelry to name a few.
The best place to sell such items is Facebook Marketplace as they do not charge you anything. However, the only drawback with Facebook Marketplace is that you can only sell products within a radius of 100 km from your location.
There are also websites where you can pay to set up a marketplace like Shopify and Etsy. A lot of money can be made by setting up an online marketplace and selling handmade goods.
6. Social Media Assistant
Working as a social media assistant is a great way to earn money without paying anything. If you love social media like Facebook, Twitter, Instagram and Pinterest, then this is the right job for you.
Generally, social media assistants only work part-time, with flexible hours for employers or high-net-worth individuals.
Your job is to upload photos and other material to the employer's social media pages and respond to comments. Generally the main function of social media assistant is to engage and popularize people for the organization or employer.
You will also find many questions on social media platforms. Therefore, you must respond to them carefully according to your employer's policies, and handle any negative comments or tweets and retweets quietly.
7. Mystery Shopper
The job of a mystery shopper is very lucrative. The term mystery shopper actually has nothing to do with mysteries, as you might incorrectly assume.
Instead, it's about going to a store, mall, boutique, hotel, restaurant, or any other business outlet and seeing a few things as directed by your employer.
You may also have to buy some things, the price of which will be given by the mystery shopping company. In general, mystery shopping companies are like market research firms.
They want ordinary people to visit places and gain experience. When you go where your employer wants, you are not required to disclose your identity or the fact that you are searching for certain details. Hence the word 'secret'.
Upon returning from your mysterious shopping trip, you'll need to write a detailed review of your experience. Usually, the employer will provide the template and you will have to fill in the relevant details.
It helps organizations to improve their performance, products, services and other offerings. This is the best way to earn money online without investment.
8. Play Video Games Online
No, I am not talking about PUBG, which a lot of people are crazy about. Instead, here I am talking about playing various online video games that are not yet released to the public.
Generally, developers and online game makers want people like you and me to test these games before their commercial launch. They want us to try these games and write an honest review as a user. This helps them resolve any glitches or improve the game ahead of its commercial launch.
Usually, you will see many such free games to play on paid online survey websites. For each game, you play and review, the company will award you points that can be redeemed for cash or free shopping vouchers.
So, if you are looking to earn money online without paying anything? So this is a fun way to make money online instantly, especially if you are into video gaming.
9. Online Tuition
Do you have excellent teaching skills? And have complete knowledge of any subject? And looking for a way to make money online without paying anything using your teaching skills? If yes, then you can be eligible to work as an online teacher part time and earn a lot of money without paying anything.
There are around 25 websites that hire online tutors in India and around the world. To qualify, you'll need a degree in teaching or, at a minimum, a bachelor's degree in any field with some experience teaching a class.
The most common types of online tutors are those who can teach simple school subjects such as English, regional languages, math and science to their class. In fact, countless online tutors are now millionaires because they get so many students. If you have the required skills and qualifications, enroll on any of these websites, pass their exams and work as an online tutor.
10. Freelancing
Regardless of your skills, you can always become an online freelancer. There are many top freelancing marketplaces like Upwork.com, Freelancer.com, Guru.com and FlexJobs.com where you can create a profile and work as a freelancer.
Visit these websites to know which freelancing online skills are in high demand.
To work as a freelancer, you need to define your niche and build a great profile on any of these freelancing platforms. You can view profiles of other successful freelancers and create one for yourself.
Typically, a buyer of freelance work will not contact you directly. Instead, they will post their assignment on the freelancing platform. You have to submit a project and bid for the work.
In case you are unaware, India has the second largest number of freelancers in the world after the US, which ranks first. And most of the freelancers earn six digit income every month in India.
in conclusion
You can use one or more of these top 10 effective tips to make money online without paying anything as a beginner or a professional. Millions of people across the world and in India are already using these 10 ways to earn a side income or even their livelihood.
There is no reason that stops you from earning money online. Check out what skills you can use to make money online and then take the necessary steps. You will find that all your extra efforts are towards making money by paying rich rewards within a short span of time. Above all, these 10 ways to make money online without paying anything are also legit and can be done by almost anyone.